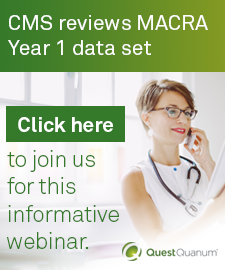 MACRA: CMS reviews Year 1 data
MACRA reporting for 2018/Year 2 of the program just ended. Whether or not you participated, as 2019 gets underway, it's important to know your options. Join us as representatives from the Centers for Medicare & Medicaid Services (CMS) speak about 2019 MIPS, APMs, and support for small and rural practices. They'll also go over Year 1 (2017) Performance Data, the 2017 Experience report—which provides details on participation—and address payment adjustments. Find out what fees and penalties can be incurred for not complying with the regulations.

This webinar is sponsored by Quest Diagnostics as part of our ongoing commitment to improving access to information and insights.

MACRA: CMS reviews Year 1 data
Tuesday April 30, 2019
1:00 pm ET
---
Fill out the form below to register for the live session or have the recording sent to you.