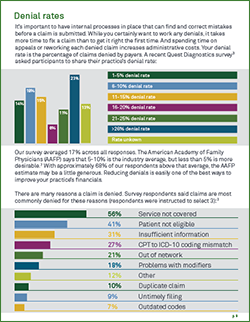 How to improve practice financials
When it comes to the financial health of your practice, nothing has a greater impact than the people behind your billing. Whether in-house or outsourced, you need a team you can trust—one with the experience to do the job right and with the desire and drive to collect every penny.
The Quality Payment Program (QPP) has moved Medicare reimbursement from a fee-for-service model towards value-based care, but not without a few bumps along the road. Quest Diagnostics recently conducted a national survey asking about the biggest pain points when it comes to the physician billing process.
The results may surprise you, and will likely confirm many suspicions that you already have around your billing. The full white paper goes over the survey results with an eye towards addressing the most notable frustrations that respondents had including managing denials, collections, and you time.
Fill out the brief form below to view the full white paper immediately.
---