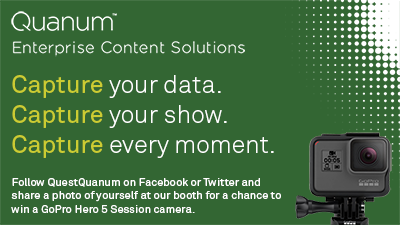 Capture your data.
Capture your show.
Capture every moment.
Visit us in booth #858 for a chance to win a GoPro Hero 5 Session camera.
Capturing accurate, easily-discoverable enterprise content and data has never been easier than with the latest release of Quanum Enterprise Content Solutions by Quest Diagnostics. We cordially invite you to visit us in booth #858 at HIMSS19 for an in-depth look at our new Intelligent Data Capture and Deep Search features. While you are there, enter our raffle contest for a chance to win a GoPro Hero 5 Session camera.
How to enter:

Take a picture of yourself in our booth and share it on your social feed with #CaptureQuanum.
To receive your raffle slips, simply speak with a representative at the reception desk in booth #858. A raffle slip will be awarded for completing each of the activities above, so increase your odds of winning by completing both!
Contest winners will be selected at random and notified within the first week following the show.