Real-world benefits of machine learning in healthcare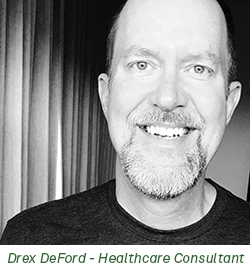 Machine learning has become a common buzzword in our industry with many purveyors making advances in the way we approach patient care. The sheer number of manual processes that can be automated using current technologies drives innovative approaches, and seeks to increase efficiencies across the healthcare continuum.
Starting with a "machine learning 101" approach, we'll have a discussion about how top innovators are embracing artificial intelligence, as well as the future of AI and ML, and their potential to support better healthcare for patients and families.
Join renowned speaker Drex DeFord whose 30+ years in our industry have led to a wealth of experience and valuable knowledge. As a digital-health leader, he understands your competing priorities and strained resources, as well as the pressure to differentiate services; distinguish a brand; and deliver better, faster, cheaper, safer, easier-to-access care to patients and families.
This first in a series of sessions with Drex DeFord is brought to you by Quanum Enterprise Content Solutions, comprehensive enterprise document and data management backed by Quest Diagnostics. We empower healthcare organizations to leverage the breadth of information needed to help support and improve patient care, drive operational efficiencies, and lower costs.

---
Fill out the form below to immediately view the full session.